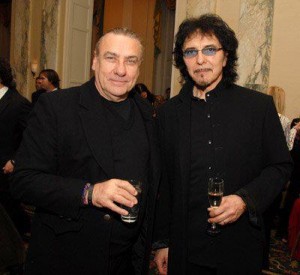 This past Saturday was the most recent episode of "Rock 50" with Bill Ward.  Rock 50 is a show on college radio station WPMD in Cerritos, CA.  Once a month, Bill comes in and is the DJ, picks the tunes, and occasionally dispenses some nuggets from his past.  Most of the tunes he plays are more modern metal, but he goes all over the place from Pink Floyd, Buddy Holly, Luciano Pavarotti, and Type O Negative.
Bill also will do themed "tributes" to various artists for whatever reason.  On this episode, Bill did a tribute to Tony Iommi because of Tony's recent 64th birthday).   Bill talked a little about Tony's birthday in intro-ing the piece.  Bill played several Black Sabbath songs.  Here's what was played:
Wicked World
Embryo / Children of the Grave / The Haunting
Johnny Blade
Air Dance
Hand of Doom
Orchid
Bill picked the pieces to showcase Tony's playing styles.  I was quite pleased at the inclusion of not just one, but TWO tracks from the Never Say Die album.  That album usually gets forgotten about, or slagged off when talking about the Ozzy era.  I've always felt Johnny Blade is a lost classic – Tony's riffing in that track, and especially towards the end just shreds.  Air Dance is just awesome – I love the musical experimentation on this album.
Anyway, after the tracks were over, Bill reminisced a little about a few of the tracks.   Here's a few tidbits from what he said:
Recalling the first album, Bill talked about the cover track "Warning" (which he said was incorrectly named on the album as "The Warning").  He said live that Tony would do his improv stuff in the middle, and sometimes play for half an hour at a time on his own, bringing the house down with his riffs.
Bill called "Children of the Grave" one of his favorite tracks to play live with the Sabs, going on to call the track ".. a drummer's dream"
Bill also talked about the Johnny Blade track.  His first reaction upon hearing the opening riff for the first time was that it sounded like something from the Shadows.  Upon hearing it, he got up and jumped behind his kit to play behind Tony's off the cuff riffing.  Bill also said it was bloody freezing in Toronto where they were. :)
If you have never checked out Bill's Rock 50 show, you really should.   I looked over at the site for the radio station, and the most recent episode is available as a replay.  If you go to the WPMD website, you can listen to several replays of their shows – one of which is Bill's Rock 50.  Check out the media player on the front page.
For the record, nothing was said about the 2012 Reunion / New album stuff.  No surprise there, I wouldn't think Bill would talk about that on his show.