UPDATE: The album can be pre-ordered now, see links below.  Still no official cover art yet, though.
Last summer, Tony Iommi & Ian Gillan released a charity single to raise money for a music school in Armenia.  Click here if you want to refresh your memory about that.  The project did well, and there was talk of them doing more in the future.  Well, that "more" is here.  Sort of.   I think a lot of fans expected the new "work" to result in a full fledged new album.  That's not quite what we're getting, but we are getting a "WhoCares" full album.   The album does have new music, but not newly recorded.  It also has some older tracks that were previously released elsewhere.  There are going to be a bunch of leftover tracks from projects that Tony & Ian were involved with over the last 10 years or so that will be released for the first time on this album.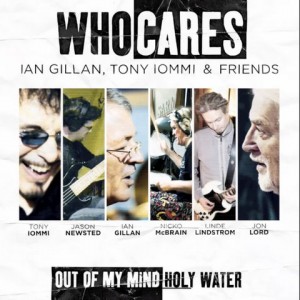 I'm a little unclear as to the title of the new disc – from what I've read online, it will be called "WhoCares", the same as the single from last year.  But I can't get official confirmation of that at this time.  Anyway, here is the track listing, which is accurate, as far as I can tell from my own research on the matter:
WhoCares – Out of My Mind (from single last year)
Ian Gillan featuring Iommi, Roger Glover, & Ian Paice – Trashed (originally from Gillan's Inn)
Black Sabbath – Zero the Hero (from Born Again)
Deep Purple – Dick Pimple (unreleased Deep Purple outtake from Purpendicular)
WhoCares – Holy Water (from single last year)
Black Sabbath – Anno Mundi (from Tyr)
Ian Gillan – She Thinks it's a Crime (first time released on CD or digital)
Iommi / Hughes – Slip Away (from Fused album, previously was a real.com exclusive track)
Ian Gillan – When a Blind Man Cries (previously unreleased live acoustic version)
Ian Gillan – No Laughing in Heaven (live track released under name Garth Rockett)
Ian Gillan / Mikhalis Ratzinkis – Getaway (previously available on LP only)
Tony Iommi / Glenn Hughes – Let it Down Easy (from Japanense version of Fused album)
Ian Gillan & the Javelins – Can I Get a Witness
Repo Depo – East Come Easy Go (previously unreleased)
Deep Purple w/ Ronnie James Dio – Smoke on the Water
Ian Gillan / Roger Glover – Can't Believe You Wanna Leave Me
Gillan – Don't Hold Me Back
The appearance of a few old Sabbath tracks is interesting.   It will be interesting to see the source of the mastering work for Anno Mundi.   I know there were plans to release the Tony Martin IRS albums in deluxe editions, but the reunion stuff (and later Tony's cancer) got in the way of that.  However, if they were actually remastered already and waiting for a release, then this would be good news to include a remastered version of a track from Tyr.   I have inquired about that, if/when I get an update on it, I'll report back.  UPDATE: I got word back from Tony Iommi's manager that Anno Mundi has NOT been remastered, and that Tony has had little time to work on the IRS remasters, so this will be the previously available CD master version.  Still, it's nice to see a track from Tyr get some attention in 2012!  :)
The inclusion of Anno Mundi will make for the only Tony Martin era track (excluding Eternal Idol) that will currently be in print.   One holds out hope that we'll still get to the deluxe edtions of Headless Cross, Tyr, Cross Purposes & Forbidden – but that's a story for another time.  If you want to read about THAT situation, I urge you to read this link.  ALL OF IT.
Pre-Order Links:
NOTE: In the time since my original report, I found out that there is currently no domestic US distributor for this CD yet.  If you want to buy it from Amazon US, you'll be paying their import CD prices.
Additional:
Also, to refresh your memory, here is the full track "Out of My Mind" from last year.  Still a great track.  Check it out: