A week ago or so, Tony Iommi & Ian Gillan released in the United States the full WhoCares album.   This follows the CD single released about a year ago or so , which was a charity release to benefit a music studio in Armenia.  Well, they're back with a full album.  It's not the full studio album like some of us hoped, but there's some cool stuff in there just the same.  It's not just a rehash of old tracks, there's several rogues and oddballs on here from various sources.  Below is a list of the tracks, and a remark about me about them:
Disc 1
Out of My Mind (WhoCares) – This originally appeared on the 2 track "single" CD from last year.  It's unchanged as far as I know.  It's a great new track from Tony & Ian.   The band on the track is stellar.  Tony Iommi, Ian Gillan, Jason Newsted, Nicko McBran, Jon Lord, & Linde Linstrom.  Makes me wish this band recorded more than just this one song.
Zero the Hero (Black Sabbath) – A lift from the 1983 Black Sabbath album Born Again.  A great old track.  Although if I had my choice of track to lift from the Born Again album to include, I would have picked "Hot Line".  Oh well, still cool to see something from Born Again here.
Trashed (Ian Gillan) – Back in 2006, Ian Gillan put out an album called "Gillan's Inn", which existed to celebrate his (then) 40th anniversary in the music biz.  He re-recorded a bunch of tracks from his past.  To represent his time in Black Sabbath, he chose Trashed, and re-recorded it – with Tony Iommi on guitar.  Also on the track are Roger Glover & Ian Paice.
Get Away (Ian Gillan w/Michalis Rakintzis) – Originally recorded by Ian Gillan in 1993.  Even though the liner notes say who this is, I don't know who it is!   Definitely one of the slower, more eclectic songs from the overall track listing here for sure.  Definitely not "metal" sounding at all.  Has a very catchy sounding vocal chorus, which makes the song work very well for me.
Slip Away (Tony Iommi w/Glenn Hughes) – This is one of the "extra" tracks from Tony's 2005 solo album, Fused.  This one in particular was the one that was the hardest to get, as it was only available back in 2005 from the then online music retailer, real.com.  It was never available on CD anywhere – until now.   If you liked the Fused album, you should check this out for sure.
Don't Hold Me Back (Gillan) – A song Ian wrote back in 1992 inbetween Deep Purple stints.  The liner notes say this was written for his wife Bron, who at the time was going to have major heart surgery.  He calls it "one of the most intimate moments of his life, expressed in song".   Has a 90's version of his old "shriek", which I thought was last heard on the Born again album.  :)
She Thinks It's a Crime (Ian Gillan) – This track comes from Ian's 2009 solo album, "One Eye to Morocco".  This track in particular was originally released on the 7 inch vinyl version ONLY.  First time on a CD anywhere.  The track doesn't jump out at me at all musically.  Pretty bland track –  not one of my favorites on this collection.
Easy Come, Easy Go (Repo Depo) – This track comes from the project Ian was working on right before he rejoined Deep Purple for the "Battle Rages On" album.  Repo Depo was the name of the band.  It has never been released anywhere before in any format.  According to the liner notes, the only known copy was on a monitor cassette tape Ian had – it was brought forward and remixed in 2012 for this collection.  Nice track.  The guitar sound reminds me a bit of Tony Iommi in places.
Smoke on the Water (Deep Purple) – This version comes from the live Deep Purple album, "Live at the Royal Albert Hall", and Ian shares lead vocal duties on this version with Ronnie James Dio.   Interesting hearing these two former Black Sabbath vocalists sing together on the Deep Purple Chestnut.
Here is a video with samples from all the Disc 1 tracks:
Disc 2
Holy Water (WhoCares) – This originally appeared on the 2 track "single" CD from last year.  It's unchanged as far as I know.  Unlike "Out of my Mind", only Ian & Tony appear on this track from the "All Star Band" pictured on the original CD's cover.   Good track, but not as killer as "Out of My Mind".   Liner notes say the song is about whiskey. :)
Anno Mundi (Black Sabbath) – This originally appeared on the 1990 Black Sabbath album, "Tyr".  Featuring the lineup of Tony Martin, Tony Iommi. Neil Murray, Cozy Powell, & Geoff Nicholls.   This is the first time that a track from the Tony Martin era (other than Eternal Idol) has been re-released anywhere.  The entire Tony Martin catalogue is pretty much out of print (again, except Eternal Idol).  This stuff needs to be out there.  Sod the 2013 reunion album, Tony, I want the Tony Martin era re-released properly!
Let It Down Easy (Tony Iommi w/ Glenn Hughes) – This was one of the three exclusive (to somewhere) tracks from the Fused album.  This one in particular only appeared on the Japanese print of the Fused CD.  It's a killer track, I've always felt it's the best of the three "exclusive Fused tracks".  It's a fast song, and to be honest, it sounds a lot like Whitesnake would have sounded like had Tony Iommi played guitar.  But that doesn't stop me from liking it.  One of the best off the Fused album period.
Hole in My Vest (Ian Gillan) – This track originally was recorded for the 1990 Ian Gillan solo album, "Naked Thunder".  This song in particular was a B-Side to the single "Nothing But the Best".  This is another of those tracks that only existed on the final production material, the original tapes were lost.  The vinyl was recorded in, and cleaned up and prepped for this CD.   This has an odd 80's "soft metal" vibe to it for me.  Just "that kind" of riff and enough keyboards in there to 80's it for me.
Can't Believe You Wanna Leave Me (Gillan & Glover).  This song comes from an 1988 album released by Ian Gillan & Roger Glover.  It's a cover of a Little Richard song, and the piano influence certainly shows that.  Has that "early 50's rock" kind of feel to it.  The liner notes talk alot about this track, apparently it's a big deal to Ian personally.  Keyboards are handled by "Dr. John" (aka Mac Rebennack).
Can I Get a Witness (The Javelins) – The Javelins was a band Ian Gillan was in before he came to Deep Purple originally, and they came back together in 1994 to record an album of covers.  This one in particular is a Marvin Gaye song.    Has more of that "early rock" feel to it.
No Laughing in Heaven (Garth Rockett & The Moonshiners) – Garth Rockett & the Moonshiners is Ian Gillan, much in the same way that Garth Brooks went out as Chris Gaines some years ago.   Song's OK.  Nothing to go nuts over, but it's a nice track.
When a Blind Man Cries (Ian Gillan w/Steve Morse) – This particular version of the track is an acoustic version.  It's got just Ian Gillan & Steve Morse on it.   Was recorded live in a radio studio, but it's not dated.   This works as an acoustic piece, not something I'm usually into.
Dick Pimple (Deep Purple) – Recording during the Purpendicular sessions, this is a goof warmup thing, much in the same way Black Sabbath themselves recorded "Blue Suede Shoes" back in 1970.   Not quite sure what to make of this.  It's quite silly in places, and quite loud in others.   Might be one of the coolest tracks on the set.
Here is a video with samples from all the Disc 2 tracks:
Cover Art
The only thing I'm disappointed with is the cover art.  It's well, boring as all hell.  It's my understanding that something else was supposed to be chosen, but in the end they went with a picture that's taken out of some promotional photos from the Born Again tour.  I took a look through my photo archives, and I'm pretty sure I found what was used for this, only put in a sepia type tone to get the WhoCares cover art.   Here's that picture below: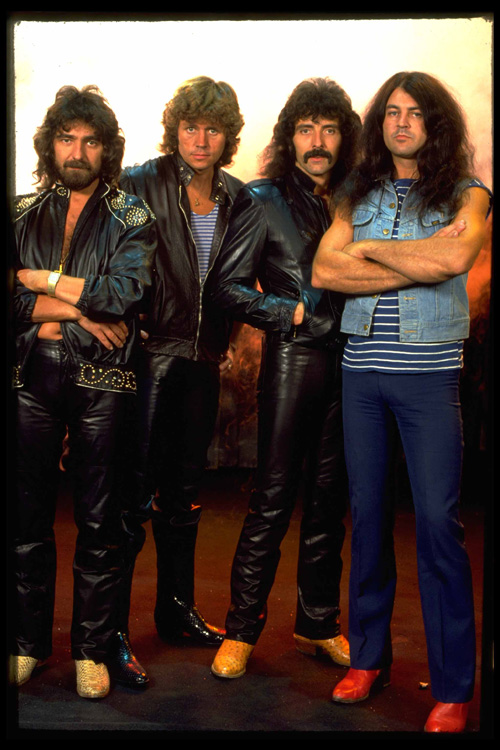 I was hoping for something more like the CD single artwork, but oh well.   It's not like you listen to the cover art anyway.
A few thoughts..
One of my favorite things on here by far though are the liner notes.  Liner notes these days are usually a forgotten thing, or only included because they have to.  This one does what I like seeing on compilations.  Each track has some sort of note with it from either Ian or Tony about the track itself, or some story surrounding it.  It's a good read, and while Ian is more verbose than Tony here, it's definitely a worthwhile part of the overall package for sure.
About the music itself..  It's a pretty cool compilation.  I can't say I like every single song on it.  Some of the more obscure Ian Gillan tracks are well, "odd" to me, and I'm not too into them.  But that shouldn't stop you from buying this.   I really like the usage of a few old Black Sabbath tracks from the Born Again & Tyr albums.  I'm still not quite sure WHY there's a track from Tyr here, but anything that gets the Tony Martin era out there is OK with me!
Also, this is a charity piece, so the money that you spend on this will go to help others trying to make music, so that's a cool goal.
What do I think?  Very cool package, wish it had better cover art, but definitely would be something I'd pick up on my own if I didn't get mine comped from the record company.  Go buy it.  Don't copy it.
Ordering Links
Here's some links where you can buy the album in the UK and in the US.   If you buy them from Amazon (either UK or US) through the links on this page, a small percentage of the sale goes towards keeping this site going, so please – always use my Amazon links if possible.  Thanks.
UK Links:
US Links:
A few remarks about the digital copies.   For some reason that I'm unaware of, the digital versions are mostly crippled.  Both the US & UK iTunes stores don't have the complete album.  Amazon's UK MP3 store also has the same crippled version (only 13 instead of 18), and oddly enough their version botches several of the track names.  However, the US Amazon.com MP3 store DOES have the full 18 song track listing, but you can't buy them all individually, you have to buy the whole album digitally to get all the tracks.   I've seen "full album" restrictions like this digitally before.  But usually it's all or nothing – I haven't seen a region split like that.  Usually, everyone gets it or nobody gets it.   That's all the more reason to get the physical product.  If you buy it digitally, you'll miss all the cool stories about the songs in the liner notes.  :)
Most enjoyable compilation.  Now that they've worked together a few times lately, let's get a proper full new album, guys!   :)