Today (March 25th) is the 30th anniversary (in the United States anyway) of the original release of the first, and arguably the best Dio album, "Holy Diver".    Man, thirty years, eh?  I know time is the enemy that marches on, never stopping, never ceasing, but when you reach milestones like that about things from your youth, they're reminders of where we've come from.   They deserve to be looked at from time to time, so in that vein…
It's the same old song
You've gotta be somewhere at sometime
They never let you fly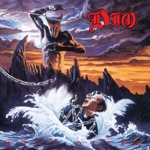 So begins the first song off the first Dio "solo" album.  Ronnie was always quick to say the Dio band wasn't a solo project, it was always intended to be a band concept, despite the fact that it bore his taken stage name.   I think it's a safe bet that if you're reading this article, you know this album, and I won't have to tell you much about the music behind this album, so I won't.    If, however, you're one of the three people left on the planet that have never heard this album, stop what you're doing and go buy it.  Don't bother sampling it, don't bother pirating it, go buy the bloody thing.   It only costs $5.99 to legally buy it from Amazon's MP3 store.   But enough of the sales pitch.  I'm wagering you have it already, in which case, you need to get it out and listen to it today.
This album came out just literally before I graduated high school (I'm 47 now), and it was a powerhouse in every way.   At this point in his career, he was coming off what was (then ayway) a somewhat clouded, negative departure from Black Sabbath.  There were the stories about the mixing of the Live Evil album and all that.  True or not, that's what was said at the time.   So Ronnie took Vinnie with him, and they got to work on the Holy Diver album.   Ronnie brought in his old friend from the Rainbow days, Jimmy Bain to play bass on the new album/project.  To play guitar, after having worked most recently with Tony Iommi – and Ritchie Blackmore before him, Ronnie tapped Irish guitar wiz Vivian Campbell to play in Dio (then late of Sweet Savage).   Although to this fan at the time Vivian was an unknown.  To this day, I've never heard any work Viv did pre-Dio.   Holy Diver was his big breakout for sure.
By all accounts, most of the work had been done on the album when they brought Vivian in.   That brings up an interesting concept.  Someone had to play guitar on the demos done before Vivian joined.  I wonder who did that.  Could have been Ronnie – he can play instruments,  he just didn't in the Sabbath/Rainbow/Dio days, although it happened in the Elf days.   Ronnie did play keyboards on this album, though – but very quickly they brought in a proper keyboardist going forward (Claude Schnell).
As I think back to where I was musically when this album first came out, it was in the era of Michael Jackson & Duran Duran on MTV, and for me personally, I think Holy Diver & Pink Floyd's "The Final Cut" were the two albums I listened to the most in the year of 1983, along with Black Sabbath's own "Born Again".   So my tastes cut across the "popular" grain there.   Even now, thirty years later, this album is strong.  REALLY strong.  I could add more really's and make the font giant and blink and others, but I think you get my point.  There have been ten studio albums from Dio, and while musical tastes and choices are very much a personal thing, I don't think it's really off base to say that Holy Diver is the "best" Dio album.   This is solid from front to back, there's nothing on this album that I want to skip when I hear it.
One memory I do have looking back is that I was a bit irritated that the Dio band existed.  I loved – I MEAN LOVED what Dio was doing with Black Sabbath.   The Heaven & Hell album was a bloody masterpiece.  The Mob Rules album was my first introduction to Sabbath, and while it's not as awesome as the H&H album was, you can't say the Mob Rules album was a slouch at all.  It was great, too.  So I didn't want that path broken.  While I liked the Born Again album, and I loved the Holy Diver album after the fact, the leadup to it was a case of "Darnit, I don't want this to be happening!"
The album's release had a few issues that came up in the press as controversial.   First was the fact that the cover art appeared to be a devil killing a priest, and the other being that if you turned the Dio logo upside down it spelled "devil" (or "die").  I remember the bru-haha about this stuff well.  This was also the era of the PMRC, and warning labels on metal CD's and all that.  However, I'm here to talk about the music, and my memories of them, and I don't want to talk about the negative stuff there.   But I'd be a liar if I said it wasn't part of the overall tapestry of memories – just that I choose not to focus on that.
I saw the Dio band many times over the years, and I did see them on the tour for Holy Diver.  If I remember correctly Twisted Sister opened for them in 1983.   TS hadn't yet broken huge in the states yet ("We're Not Gonna Take it" came out in 1984), so I wouldn't have known them – not yet anyway.   I don't remember the gig terribly well, except to say that it was the first time I had seen Ronnie live (got into Sabbath just after they had been through Philly on the Mob Rules tour).  The next couple of Dio gigs after that were recorded and released on home video (Special from the Spectrum & Finding the Sacred Heart), but I wish this tour was.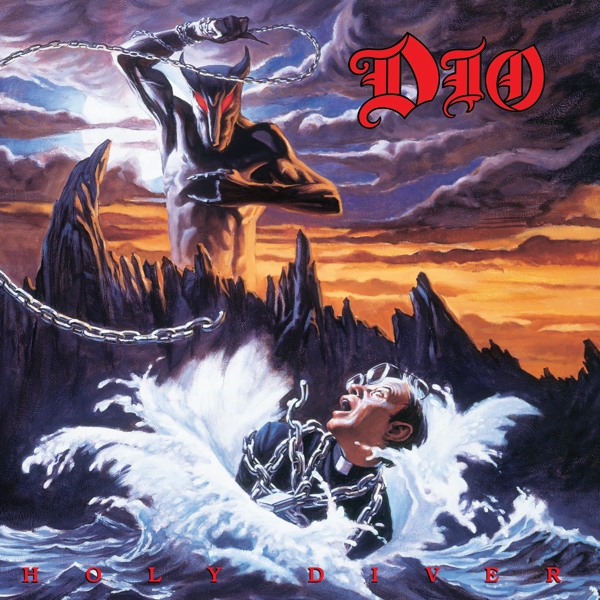 I unfortunately didn't think to write this article ahead of time, it was written on the ACTUAL 30th anniversary, so I didn't have time to contact people to get quotes, and things like that, which I've done before.   But I did find this.   It's a fan made re-creation of the "Rainbow in the Dark" video by Dio.   It's actually fairly well done.  If you check out the official video, and then compare it to this fan version, they picked up on what was done fairly well.
There was also a video for the song "Holy Diver", but to be honest, I never felt either of the music videos for this album were very good.  Songs were great yes – but as music videos go, not so much.
The album was re-released a few times over the years in other formats.
It was released in a 24-kt Gold remaster, which I'm told is the best version of it out on CD.  I don't personally have this one, although I do have the 24kt version of "Last in Line", and that's extremely good.

There was a fully live version released in 2006, called "Holy Diver Live", which contained the then version of Dio (Dio/Aldrich/Sarzo/Wright/Warren) doing the album in full, along with a second disc of other material.   Was also released on DVD.
The original was re-released on Mar 20, 2012 in a 2 disc Deluxe format, with a new remastering.  If I had one complaint about the original CD master is that the bass response was somewhat flat and tinny sounding compared to other albums.  That's more a fault of the tech in use at the time for CD mastering.  Things have improved a lot since then.    If you go to my Holy Diver discography page on this site, you can get links to buy the Deluxe Edition, which has a second disc of live tracks and an additional studio track.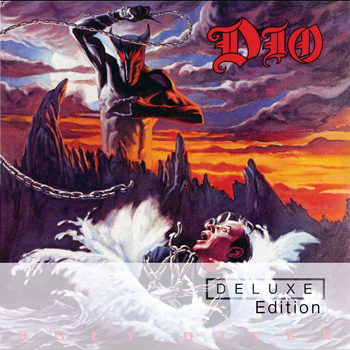 One interesting factoid I either had forgotten about, or just never new was that the song "Don't Talk to Strangers" originally was made by Vivian's pre-Dio band Sweet Savage, but under a different name, and with different lyrics.  If anyone knows what that song is, please let me know.  Tkx.
I know this article isn't as focused as some of mine have been, but as I said above, I don't think I need to explain the Holy Diver album to people who visit this site.   So I was just trying to throw down some of my own memories of what I recall from 30 years ago for this anniversary.    I've been writing this piece with the deluxe version of the album going (album – what a quaint term), and I suggest that you get it out and play it.   Thanks to Ronnie, Vivian, Jimmy, & Vinny for giving us one of the best, most timeless pieces of metal ever created.
Ronnie's sadly not around to get to this point, which is sad, but the piece that he and the lads created 30 years ago in Van Nuys, California lives on, and is a fucking masterpiece.  Miss you, Ronnie.
Well I lost my home on the Magic Flame, but now I know your name
Shame on the night
Shame on you….. Shame on ALL of you