One of the names that has been around various projects related to this site in one way or another is Bob Daisley.  As a member of the original Blizzard of Ozz band in 1980, he, along with Lee Kerslake formed the rhythm section for two of metal's most classic albums, "Blizzard of Ozz" & "Diary of a Madman".   Bob was also the bassist and primary lyricist on Black Sabbath's 1987 album, "The Eternal Idol".  He also appeared on several other Ozzy Osbourne albums.  However, if you're reading this, you know the story between him, Ozzy & Sharon and all that fun.  Well, Bob's side of the story hasn't been told – until now.  Enter Bob's book "For Facts Sake".
Bob's book has long been something that fans have been clamoring for, and it will be available very shortly.   Bob sent along a few physical facts about the book.  He told me it's a big book, eleven inches by seven and a half inches and over an inch thick, and almost two and a half pounds in weight. It also contains over 460 photos within and throughout the text, most of them unseen until now.  There are a total of 330 pages to the book.
Bob was kind enough to send over this synopsis of the book, which he allowed me to reproduce here.  Have a read:

Over the years I've had many requests to write this book and it's been a long time coming. During interviews, conversations and on fan-based forums, I've repeatedly been asked to put my experiences and adventures into a book, and this book is the culmination of decades of a life spent in music. From the broad spectrum of artists and entertainment industry personalities that I've had the good fortune and pleasure to work with, I relay my times with acts such as Chicken Shack, Mungo Jerry, Widowmaker, Rainbow,  The Blizzard Ozz, Uriah Heep, Ozzy Osbourne, Gary Moore, Black Sabbath, Dio and others. Among those featured in the text are Bon Scott, John Bonham, Ritchie Blackmore, Ronnie Dio, Cozy Powell, Ozzy Osbourne, Lee Kerslake, Randy Rhoads, Jake E. Lee, Carmine Appice, Gary Moore, George Harrison, Zakk Wylde, Tony Iommi, Yngwie Malmsteen, Joe Lynn Turner, Tony Williams, Aynsley Dunbar, Bill Ward, Steve Vai, Steve Morse, Jon Lord, Don Arden, David Arden, Steven Machat, Sharon Osbourne and many more too numerous to mention here. Because of the huge fan base for each of the artists, the demand for me to write this book has been consistently present.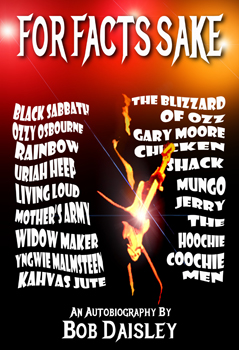 This is the story of my life as a musician and songwriter in a continuing career that so far spans more than forty-five years. I have written every word of it myself, there have been no co-writers or ghost-writers. Although the story goes from my birth, family background and into my childhood and school days, the main focus is on the many achievements in music that I've been fortunate enough to enjoy. Mine has not been an easy journey, it has however been interesting, creative, rewarding and successful. I came from a working-class background in the western suburbs of Sydney, Australia, and ended up in London working with the biggest names in Rock. I've included road stories, behind-the-scenes recording information, hilarious anecdotes and tales of heartbreak and tragedy. It's all in there – the birth of successful bands, the writing of the songs, the recording of classic albums and the truth about who contributed to what within the songwriting and recordings. I've revealed the deceit, betrayal, injustice, scandal and the lawsuits that I have endured due to the greed and ego inherent within the music business. I've also told of the heartfelt joy and satisfaction that comes with creativity, success, camaraderie and friendship.
    I've kept a diary since the beginning of 1976, so there have been no rough estimates or guess work, it's all precise, accurate and factual. The majority of the stories have remained untold publicly until now. I haven't sensationalised anything or 'dug the dirt' on anyone, the unarmed truth and the dozens of never-before-seen photos are enough to keep it all more than interesting.
    As a writer, bassist and lyricist, I have had the immense pleasure of watching my work reach iconic status. Albums such as the legendary 'Blizzard of Ozz' and 'Diary of a Madman' are just the tip of the iceberg. The songs 'Crazy Train', 'Mister Crowley', the controversial 'Suicide Solution', 'Flying High Again' and many other recordings associated with Ozzy Osbourne and various members of Rock Royalty have made my name synonymous with classic works.
    This is my 'from a little suburb to the big time' life story… warts and all.   
The book is available AUTOGRAPHED directly from Bob's site.  You can click here to go to his page where you can order a copy, but it also appears that you need to email Bob's webmaster as the official offer has expired now. There is more info from Bob about the book on his site here.
The book is due to be generally released on August 19th.  I'm a little unclear if it will be available at "traditional" online book stores (or in digital formats like Kindle or iTunes), I will inquire about that.  Amazon's US site does not list it, but Amazon's UK site does, although you can't actually order it.
I haven't actually read it personally yet, once I get a copy for myself, I'll have more to say in that regard.   If anyone has gotten a copy already, please drop me a line, and let me know what you think of it!
I've been looking forward to this one for ages.   Given this is a Black Sabbath site, I'll go with this picture of Bob from 1986 when he was recording the Eternal Idol album. :)