Those who have followed me and this site for some time now know I'm a big fan of the band's ENTIRE history.  Not just one part of it.  The band's been around since 1968 in some version or another, and in all that time, there's been about 31 people play (officially) under the banner of Black Sabbath, be it in the studio or live.   I point this out, because the era with Tony Martin as vocals doesn't get near the attention it should.  Granted, the fact that almost all of that era's albums are out of print doesn't help, but still..
I wanted to draw your attention to the Tony Martin Band.  Tony this morning posted a picture on his Facebook page, and made an announcement that the Tony Martin band looks like it's getting back into action.   Here's what Tony posted, along with the photo.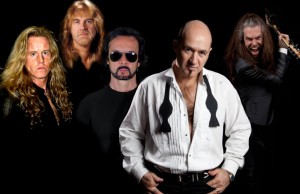 May i inroduce the new 2012 band, Tony Martin's Headless Cross…. Danny Needham, Geoff Nicholls, Dario Mollo, Myself, and Magnus Rosen. We have one appearance planned this year at the end of July on the east coast of England. More details to follow.
Tony's been in need of a new solo album for awhile now.  Even if he doesn't do that, his playing live will keep alive his era of Black Sabbath tracks – something that's criminally missing these days.   This is pretty much the same incarnation of the band from the last time we saw them, with one exception.  The bassist is different.  The new guy is Magnus Rosen, that Tony tells me comes from the band Hammerfall.
As a side note Dario Mollo and Tony recently released the most excellent "The Third Cage" album, which if you've never checked out..  Well, why the frig not?   I mean, check this out:
Right now the 2012 incarnation of Tony's band has just one gig scheduled later in 2012 – Tony says there's more planned, but it all can't be announced yet.  Given what happened last time the band tried to tour, he's probably holding off for good reason.  I'm certainly hopeful they will do something more than just the single gig.  I'll dream that they'll play the US, but I'll take the band's existence first.  :)   And if they do tour, they need to bring back the Sabbath track, "What's the Use?"