Hey gang..
Just to let you know I've picked the winners of the Ozzy 30th anniversary album giveaway. The copies for the prizes are en route to me from Sony Records at the moment. Once I get them in, I'll ship them out, but I'm waiting to announce the winners until I find out exactly how many copies I'm getting. I might be getting a copy or two more than I asked them for, in which case, I'll have more to send out than I originally announced.
UPDATE: The winners have been chosen, and the prizes sent out. Here's who won. Thanks to all who entered, and look for another contest shortly for a different release. :)
James Douglas – Ontario Canada (who won the big box)
Michael McGurk, Philadelphia, PA
Joe Croce – Garden Grove, CA
Karen Furrier – Seville Spain
Don Whipple – Saugerties, NY
Lee Underwood – Owensboro, KY
Here are the answers to the questions: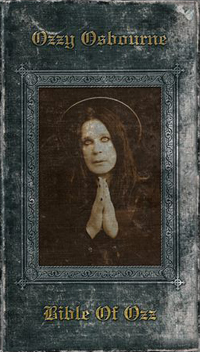 Q: What band had their bassist join Ozzy's band, while the departing Ozzy bassist went and joined the band Ozzy's news bassist came from?
A: That would be Metallica. At the time Jayson Newsted quit Metallica, his replacement was Robert Trujillo. Newsted had a brief stint in Ozzy's band right after his tenure in Metallica where he played live, mostly in Canadian shows.
Q: What music video of Ozzy's did he play roughly half a dozen roles in at the same time?
A: The answer I'm looking for here was "So Tired", in which Ozzy played eight different roles in the video (Old man in bed, Himself, Zombie looking guy, kid working curtains, Abe Lincoln, Quasimodo, Conductor in floor pit, Guy playing piano). I got a ton of answers for this one, including Perry Mason, Gets Me Through, I Just Want You, & Bark at the Moon, & Let Me Hear You Scream. The first three there are just multiple Ozzy's, and Bark at the Moon just has him in two roles ("Jekyll & the Werewolf"). Let Me Hear You Scream has him in four roles (himself, Spider, Rat, Bat), but I was looking for So Tired here, which has the most. (I went and watched the videos for these when I was picking answer to make sure I was right).
Q: Don Airey plays keyboards on Ozzy's first and third studio albums. Who plays keyboards on the second?
A: While it's uncredited, the proper answer is Johnny Cook. The album says Don Airey, but that's not accurate. However, given it was never Sarzo & Kerslake either, this kind of thing can't be a surprise to anyone.
Q: What Ozzy solo song featured in the movie version of "Buffy the Vampire Slayer"?
A: The answer is a b-side song from the No More Tears album called "Party with the Animals". That track is fantastic – one of the best from that album. Shame it was regulated to a b-side track.
Q: Which original Black Sabbath member has NOT had Ozzy sing on one of their solo albums?
A: The answer would be Geezer Butler, who has never had Ozzy on any of his solo albums. Ozzy appeared on Tony Iommi's first (official) solo album ("Iommi") in 2000 on a track called "Who's Fooling Who". He was on Bill Ward's first solo abum ("Ward One") in 1990 on two tracks, "Bombers (Can Open Bomb Bays)", and "Jack's Land".
Q: What was the original name of Ozzy's box set from a few years ago named "The Prince of Darkness"?
A: This is actually a trick question, as the original name of the set was "The Prince of Darkness". It was changed to "Bible of Ozz" for awhile, and then back again to "Prince of Darkness". I actually accepted both as a valid answers here. You only got this wrong if you said something that wasn't one of the two. :)