Those who know this site know my affinity for the whole history of the band.  Back in 1983, I was really into the Born Again album, and while I read before it came out that it might be a single album/project tour, I kept hoping we'd get another album from them in 1984.  That didn't happen, as Ian basically went straight back to Deep Purple after the Born Again tour, and I was pissed off at the time.  I liked where they went with Born Again, and I was DETERMINED to hate the Deep Purple album that came from those sessions because of the breakup of the Born Again lineup of Black Sabbath.  But Perfect Strangers changed my mind.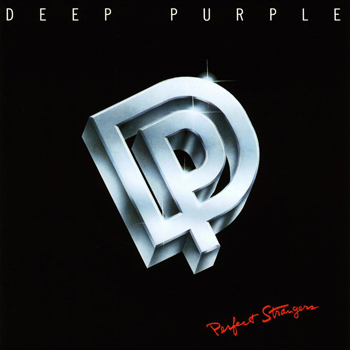 It was too good.  It was an outstanding album, and of the 19 studio albums Deep Purple has released from 1968 to 2013, three of them are what I consider "essential".   They are Machine Head, Purpendicular, and Perfect Strangers.  Perfect Strangers was a PERFECT album for that time.  The fake Deep Purple attempt in 1980 aside, nobody had heard from Deep Purple since the band split up at the end of the tour for "Come Taste The Band".  With good reason, it had fallen apart too much, and it needed to stop.  But putting what is generally considered the best Purple lineup of all time back together, given the egos and hostilities – what kind of album would we get?   We got Perfect Strangers, which came out and did wonderful, and was well, bloody brilliant.
I keep waiting for either Eagle Rock or Universal to put out a 2 CD Deluxe Edition of that album (as they both have the rights to it, and it wouldn't surprise me if they BOTH release one – that would be confusing).  That hasn't happened yet (I'm told it will), but in the meantime, we  have a new DVD coming out from that tour.   It's called simply, "Deep Purple: Perfect Strangers Live".   It's a recording from that tour, and will be available in just a couple of weeks on October 15th.

Formats & Ordering
It will be made available in several formats, unfortunately NOT Blu-Ray.   Here's some details on that, including some links to buy these:
Digital Audio (iTunes, Amazon MP3, etc) [ Amazon US | Amazon UK ]
Digital Video (iTunes, etc)
The iTunes links & Amazon UK links are not available, probably will be there on release day.
Track Listing
Highway Star
Nobody's Home
Strange Kind Of Woman
A Gypsy's Kiss
Perfect Strangers*
Under The Gun
Knocking At Your Back Door
Lazy (inc Ian Paice Drum Solo)
Child In Time**
Difficult To Cure
Jon Lord Keyboard Solo
Space Truckin' (in Ritchie Blackmore Guitar Solo)
Black Night***
Speed King
Smoke On The Water
*Start of Side B of LP format
** Start of Side C of LP format and Start of Disc2 on CD format
***Start of Side D of LP format
Video Teaser
Eagle Rock has released a video teaser for this, showing the entire song "Perfect Strangers" being done.   Check that out:
UPDATE: They released some more video.  Here's everything I've seen.
Summary
This release is right around the corner, and if you remember the Perfect Strangers album as fondly as I do, you are going to want to check this out.   While I haven't gotten an official word on this, I'm hopeful to do a giveaway.  More on that soon.   In the meantime, check out the press release below, as well as some artwork from the DVD.
RIGHT AFTER I posted this story, I got official word that I will be doing a giveaway.  Once I figure out exactly how many copies and all that, I'll get this up and running.  Look for more details shortly.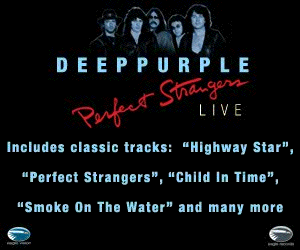 Press Release
EAGLE ROCK ENTERTAINMENT TO RELEASE
DEEP PURPLE
PERFECT STRANGERS
~DVD, 2CD/DVD, DIGITAL FORMATS, AND DELUXE EDITION~
~OCTOBER 15, 2013~
New York, NY (September 30, 2013)– On October 15, 2013, Eagle Rock Entertainment will release Deep Purple – Perfect Strangers Live on DVD, 2CD/DVD, DVD/2CD/2LP, and Digital Audio and Video. [Pre-book Order Date September 20, MSRP $14.98 DVD; $29.98 DVD/2CD; $59.98 DVD-2CD-2LP]. The DVD contains the only footage available from the "Perfect Strangers" tour plus a bonus tour documentary. The second available format offers 2CDs and the DVD of the live show packaged in a 3-disc slimline CD jewel case. The third format offers 2LPs, 2CDs and the DVD of the live show packaged in a 3-panel gatefold sleeve.
Recorded in Melbourne, Australia in 1984, Perfect Strangers live is the only full-length concert film of the band at this time. The long-awaited reunion of the classic Deep Purple line-up Ritchie Blackmore, Ian Gillan, Roger Glover, Jon Lord, and Ian Paice, who re-united for the first time since 1973, had recorded a brand new studio album Perfect Strangers, and subsequently headed out on tour. The setlist mixes then new tracks from the Perfect Strangers album with favorites from the early seventies: "Highway Star," "Strange Kind Of Woman," "Perfect Strangers," "Knocking At Your Back Door," "Child In Time," "Black Night," "Speed King," "Smoke On The Water," and many more, which are brilliantly performed as only Deep Purple can deliver.
Deep Purple is a musical force with a rich history, having boasted a wealth of incredible musicians and memorable eras. Perfect Strangers Live is a welcome addition to Eagle Rock's extensive Deep Purple collection.
Eagle Rock Entertainment is the largest producer and distributor of music programming for DVD, Blu-Ray, TV, Audio and Digital Media in the world. Eagle works directly alongside talent to produce top quality, High Definition and 3D programs, both concerts and documentaries, including The Rolling Stones, Pink Floyd, The Who, Queen, The Doors, Jeff Beck, U2, Peter Gabriel, Paul McCartney and Ozzy Osbourne. Eagle is a Grammy Award winning company and has received over 30 multi-platinum, over 50 platinum and over 90 gold discs, worldwide. Eagle Rock Entertainment has offices in London, New York, Toronto, Paris and Hamburg.
Follow Eagle Rock Entertainment at:
Facebook: www.facebook.com/EagleRockEnt
Twitter: www.twitter.com/EagleRockNews
YouTube: www.youtube.com/user/eaglerocktv
TRACK LISTING
1) Highway Star
2) Nobody's Home
3) Strange Kind Of Woman
4) A Gypsy's Kiss
5) Perfect Strangers*
6) Under The Gun
7) Knocking At Your Back Door
8) Lazy (inc Ian Paice Drum Solo)
9) Child In Time**
10) Difficult To Cure
11) Jon Lord Keyboard Solo
12) Space Truckin' (in Ritchie Blackmore Guitar Solo)
13) Black Night***
14) Speed King
15) Smoke On The Water
*Start of Side B of LP format
** Start of Side C of LP format and Start of Disc2 on CD format
***Start of Side D of LP format
# # #