I was QUITE surprised when I was in Sam's Club, and my phone notified me of a new tweet directed at Bill Ward's twitter account by Matt Sorum saying Bill had released a new album!  So I checked, and indeed Bill's long awaited new solo album was released late Saturday night to iTunes.
I don't have much in the way of info on the album, because I was quite surprised at its coming out.  Here's what I know.
The album is available NOW on iTunes.  The price here in the US anyway is $9.99.
I'm told the iTunes availability is NOT limited to the US.
Availability on other digital formats (Amazon MP3 store, Google Play, etc) is at of this point unknown.  I've already passed on the remarks that non Apple fans won't be happy about that it is iTunes only.   Don't steal it.  Go buy it.
Availability on streaming places such as Spotify are unknown.
I'm told there will eventually be a physical media release, but dates are unknown.  I get the impression this is a digital exclusive for the time being.  In other words, I wouldn't hold your breath on that.
There is a website for this release over at http://www.astoncrossmusic.com
There is a small booklet that comes with the album on iTunes.  In it, it talks about more info being available at the website above soon.
The album is dedicated to Mark "Gopher" Jones, who died last year.  I knew Gopher, when I first got involved with Bill, Gopher was my main contact point with Bill.  Good man.
Track 4 might stand for "

Darkest Of The Horses

", as that is sung in the song.
iTunes in the US lists the release date as "April 21st".  I'm told that is the date the album was submitted to them.  The proper release date is April 25, 2015.
If you have any additional questions, let me know.  I'll try and get answers and update.   Here's some more info:
The Band
It is mostly the same band that was on Bill's last release 18 years ago (When the Bough Breaks):
Bill Ward: Vocals, Drums, Keyboards
Keith Lynch: Guitar, Bass Guitar, Keyboards, Vocals
Paul Ill: Bass
Ronnie Ciago: Drums / Percussion
Walter Earl: Percussion
Producer: Kevin Keller & Bill Ward
Mastering: Stephen Marsh
Track Listing
Leaf Killers
Accountable Beasts
Katastrophic World
D.O.T.H.
First Day Back
As it is in Heaven
Ashes
Straws
The Wall of Death
Track 8 is the same Straws track that Bill has had around for awhile.  It was originally made available as a free mp3 download from Bill's site, then later sold as a charity CD for awhile.
Given I had no idea this was coming, I don't have anything prepared, but will update other parts of my site when I have the info available.
I will do my best to get more info out there, but for now this is what is there.  BUT… BUT..  NEW TUNES from Bill Ward are available.  Go check 'em out.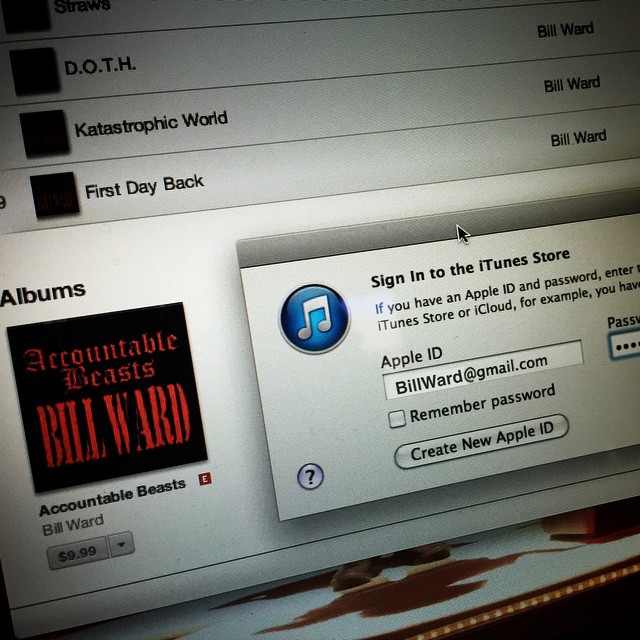 My hero @billwarddrums solo album out now , It's Epic http://t.co/8JxtjJOGRP pic.twitter.com/DvvAKeXEb0

— matt sorum (@mattsorum) April 26, 2015