Back on December 2012, I wrote about the then pending release of the first Snakecharmer album.  At the time I rather liked it, but in the few years that have passed since I wrote that, I've come to bloody love the album.  The first Snakecharmer album is for me one of my favorite albums released by ANYONE over the last decade.  It's that good for me.  It's solid from front to back, so when I met Adam Wakeman backstage on the 13 Tour in Austin TX, the first words I said to him were "Snakecharmer II – When?".   It took a few more years than I would have liked, but Snakecharmer II is finally right around the corner.

Entitled "Second Skin", the new album from Snakecharmer is due to release on May 12, 2017 via Frontiers Records.   The band is mostly the same as the first go around.  One change though – Micky Moody left the band a couple of years ago, and they have a new chap in to play guitar – Simon McBride.  I can't say I know him, but from what I've heard of his playing, seems like it works quite well.  Speaking of "knowing them", one of the reasons I originally wanted to listen to Snakecharmer is the "Black Sabbath" connection.  The band has two Black Sabbath members in it.  One current, one former.  The former was Neil Murray, who played bass with Sabbath from 1989 through 1995 (minus the Dehumanizer reunion), played on several tours, was on a couple of studio albums (including the underrated Tyr).   The other is Adam Wakeman, who has been Black Sabbath's keyboardist/rhythm guitarist since 2004, and despite the "The End" shows, is still "current", since I'm pretty convinced Black Sabbath is not totally over.  But I digress…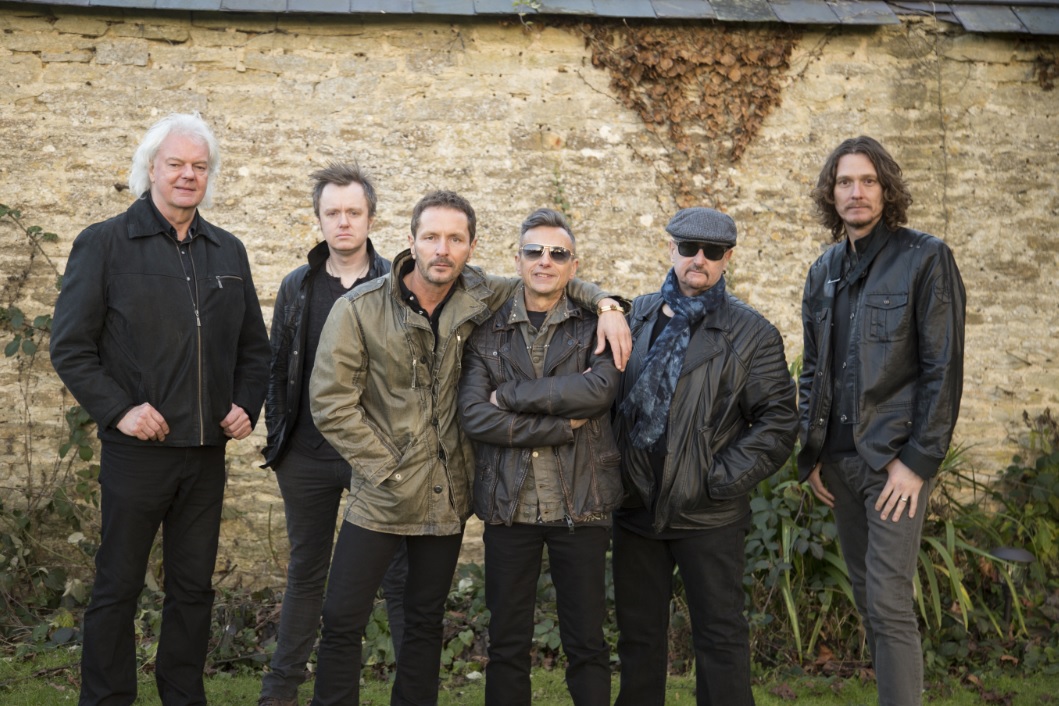 These two chaps (the tall ones on the end in this picture) were the reason I followed Snakecharmer in the beginning, and I was quite glad I did, I found an excellent band.  Unfortunately due to the nature of rock business these days, I've never seen them live, since they've never come to the US (if you didn't know I live in Texas).  So with an album that I liked *SO MUCH*, the concern that a sophomore recording wouldn't be received as much.
During the recording, I got emails from both Neil & Adam telling me the songs were progressing well.  Adam once told me this..   "Just listening to approval mixes for the the new Snakecharmer album… if you liked the last one I think you're going to love this one!"  So that raised my hopes.   Then a couple of weeks ago, the label released the first single from the album, entitled "That Kind of Love".   You can check out a video for the song here:
The chorus of this song has what I've come to think of as a classic "Snakecharmer sound".  That's an odd remark as the band only has two albums, so to have a "classic" sound speaks to the consistent strength of the music.   Speaking of the music, here's a track listing from the new album:
Sounds Like A Plan
That Kind Of Love
Are You Ready To Fly
Follow Me Under
I'll Take You As You Are
Hell Of A Way To Live
Fade Away
Dress It Up
Punching Above My Weight
Forgive & Forget
Where Do We Go From Here
Given the album is right around the corner, the label has also released a video EPK, which appears to be mostly shot in the same place the video was (which I'm told is the recording studio, and in the room originally only intended for the drummer, hence the cramped look in the video).   Definitely check out the EPK, you can hear the band talking about the album.
Now, full disclosure, with my connections with two of the members in the band, I'll be getting my copy comped to me, but if that was not the case, I would pay my own money for this.  Bands that still put out albums deserve to be supported.  Yeah, I could get the album for free from my music subscription – but bands get paid next to nothing for stuff like that.  Put your money where your mouth is, and if you like a band, buy the album, don't just listen through Apple Music, Spotify, or Amazon Music Unlimited.  While legal, and cool – artists get next to squat for those, so help 'em out and buy the album.  Here's a few links for you to buy the new Snakecharmer:

United States / North America
Europe / UK
I cannot stress how much I am looking forward to this album.  The first one is one of my favorites by anyone of recent vintage, so a second album will be a big deal to me.  I just wish I could see them play live someday.
Here is the formal press release from Frontiers for the album:
Frontiers Music Srl is pleased to announce the release of Snakecharmer's sophomore album, "Second Skin" on May 12, 2017.
The British hard rock supergroup Snakecharmer was originally founded in 2011 by former Whitesnake/David Coverdale members Micky Moody and Neil Murray along with the perfect mix of high calibre musicians including Laurie Wisefield (Wishbone Ash), Harry James (Thunder, MAGNUM), Adam Wakeman (Ozzy Osbourne), and Chris Ousey (Heartland). The band's debut self-titled album was released in 2013 and musically the record showed a finely crafted hard rock style mixed with blues and melodic overtones, akin to Micky and Neil's former band and Bad Company, with hints of early Foreigner as well.
Snakecharmer played live shows regularly in support of the album's release and built a solid fanbase in the UK and Europe. In 2016, Moody left the band and was replaced by the Irish-born Simon McBride on lead guitar. Simon was hailed "among the best blues-rock players anywhere in the world" by Guitarist Magazine and has built up an impressive resume playing with outstanding rock, soul, and blues artists.
"Second Skin" is the hotly anticipated second effort from Snakecharmer and brings the listener straight back to the good old days of real rock n' roll played with heart and soul. Slightly harder edged compared to the debut, but with roots still firmly planted in the classic hard rock vibe with a hint of late '70s AOR, this new record sounds fresh and crisp.
Bassist Neil Murray says "It's been a rather long journey, but finally I'm very pleased to announce that Snakecharmer are soon to release our new album, Second Skin. The band has now found its own unique musical identity and in particular Laurie Wisefield and Chris Ousey have contributed some very powerful and melodic songs, which still have the Snakecharmer blues-rock distinctive trademarks. The band works in a very democratic and collaborative way, which means that sometimes there is a lot of discussion before decisions are finally made, and it was great to have a more objective viewpoint from producer Gary Stevenson, who also fired the band up with his ideas, enthusiasm and sonic skills. We can't wait to get out on tour and play some of the new songs, together with the best of our established classics, both Snakecharmer and Whitesnake, and showcase our new virtuoso guitarist, the brilliant Simon McBride."
Strong, passionate, rocking, and blues-laden, "Second Skin" is quality British hard rock at its very best!
Tracklisting:
1. Sounds Like A Plan
2. That Kind Of Love
3. Are You Ready To Fly
4. Follow Me Under
5. I'll Take You As You Are
6. Hell Of A Way To Live
7. Fade Away
8. Dress It Up
9. Punching Above My Weight
10. Forgive & Forget
11. Where Do We Go From Here
SNAKECHARMER
Chris Ousey – vocals
Laurie Wisefield – guitar
Simon McBride – guitar
Adam Wakeman – keyboards
Neil Murray – bass
Harry James – drums
UK TOUR DATES:
May 05 Cardiff, The Globe
May 07 Bingley, Bingley Arts Centre
May 10 Hull, Fruit
May 12 Sheffield, The Plug
May 13 Tavistock, The Wharf
May 14 London, O2 Academy Islington
May 18 Glasgow, 02 ABC2
May 19 Newcastle upon Tyne, 02 Academy
May 20 Alva, Scotland
May 24 Preston, Guildhall
May 25 Milton Keynes, The Stables
May 26 Frome, Cheese And Grain
May 27 Holmfirth, Picturedrome
P.S.  Adam, what's with the dog?  Yours?