If y'all didn't notice, Quartz released a new album back in the spring.  It's called "On the Edge of No Tomorrow".  If you're reading my site, then you should know that Quartz was the band that Geoff Nicholls was in before he hooked up with Tony Iommi & Black Sabbath.  I'm here to drop some words about the album. One sneak peek..  One track has Tony Martin on vocals, too.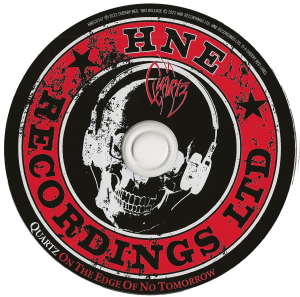 First off, this album has Geoff Nicholls all over it.  Sadly, Geoff has been gone for five years now, but his last work with Quartz is finally available.  Here's a track listing for the album..
Freak of Nature
Death or Glory
They Do Magic
Master of the Rainbow
Night of the Living Dead
Evil Lies
Angels at the Crossroad
Keep Up the Fight
Brainwashed
Babylon is Burning
What Love Is
Dirty Disease
World of Illusion
Highway to Madness (2021 Remix)
Given Geoff Nicholls is the biggest draw on this album for a Black Sabbath fan, I've gone through the liner notes as to Geoff's appearances here.
Freak of Nature – Geoff handles vocals, keyboards, & guitar solos.
Master of the Rainbow – Geoff wrote the lyrics, and is considered his tribute to Ronnie James Dio.
Angels at the Crossroads – Geoff handles vocals and keyboards.
Highway to Madness – Geoff handles vocals on this one.
Here's what the liner notes say about Geoff..
Founder member Geoff Nicholls very sadly passed away in 2017, but shortly before his passing he had made the effort when well enough to record demos and musical ideas at his home studio. 'Highwav To Madness' was one of Geoff's songs that the band managed to to record before his untimely death. It was Geoff's wish that the band trv and use as many of his ideas and songs where they could, and not allow them to be left on the shelf unheard, a promise that the band intended to honour. Mick Hopkins rose to the challenge. spending many hours patiently reassembling and reconstructing the songs from Geoff's demos, whilst developing and enhancing others, so Geoff would have been satisfied with them.  Former Black Sabbath singer Tony Martin. a longtime bandmate and friend or Geoff's also provided guest vocals for the song Evil Lies.
Additionally, Tim Perry (a friend of the band) passed these notes on, too…
Geoff also wrote Death & Glory and Babylon Is Burning that David Garner sang before he left. Geoff Bate (vocalist from QUARTZ 1983 Against All Odds album) caame in to finish off the album which is tribute to Geoff Nicholls work and life.
If you're a fan of Geoff's work with Black Sabbath, then you should check this album out, and raise your glass to Geoff when you listen for all he did with Quartz and with Black Sabbath.
Here's a couple of songs from the album. The first is "Freak of Nature" (a Geoff heavy track) and "Evil Lies" (the track with Tony Martin).
A review
I struggled to write a review of this album, because my Sabbath brain just wanted to say "Go listen to this now.  Why?  Geoff Nicholls! Tony Martin… Do I need to say more?"
I'm going to leave the "review" to someone else.  In this case it's John Tucker.  Check out what John had to say..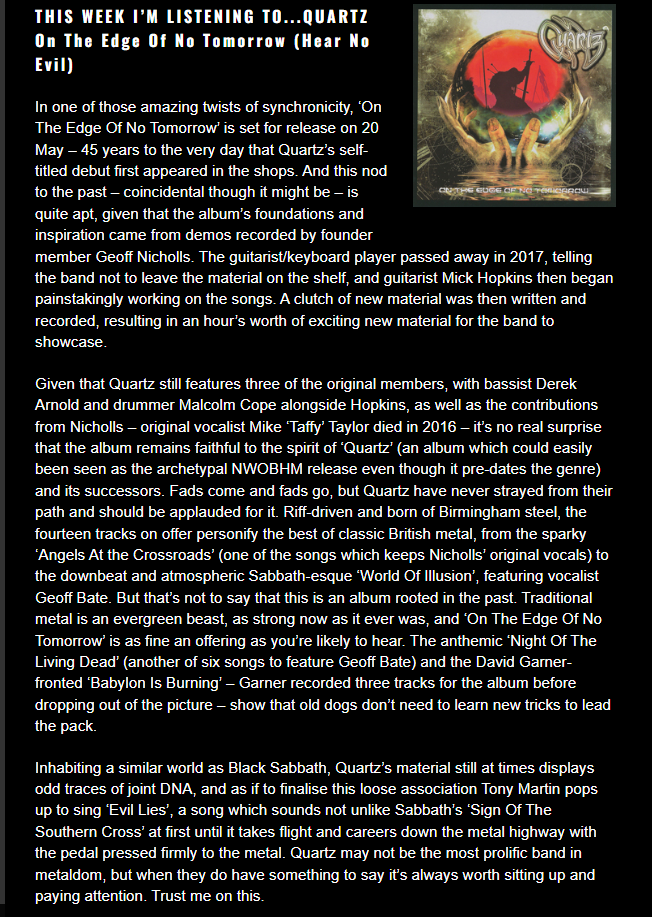 The album is available for purchase immediately.  Here's some links to buy it, as well as some streaming links, but buy the album.  Never forget places like Spotify and Apple Music, while legal really screw over the artists in what they get paid.  If you're interested, buy the thing.
Also, if you use one of my links below, I get a small cut of the sale, and helps support the site.  Thanks for that.
Purchase Links:
Streaming:
Thanks to all the guys in Quartz for getting this album out so we can hear these works of Geoff's.  Go buy the album and give it a listen. Geoff would like that.